Printing Attendance Report
Attendance reports are available from the parent interface. To view these reports, sign into the parent account and select your student's name from the list of students.
On the toolbar at the top of the page, select the 'Attendance' icon.
On the attendance report you can view the current month and the days that your student attended their courses. From here, you may select the month you would like to view or print.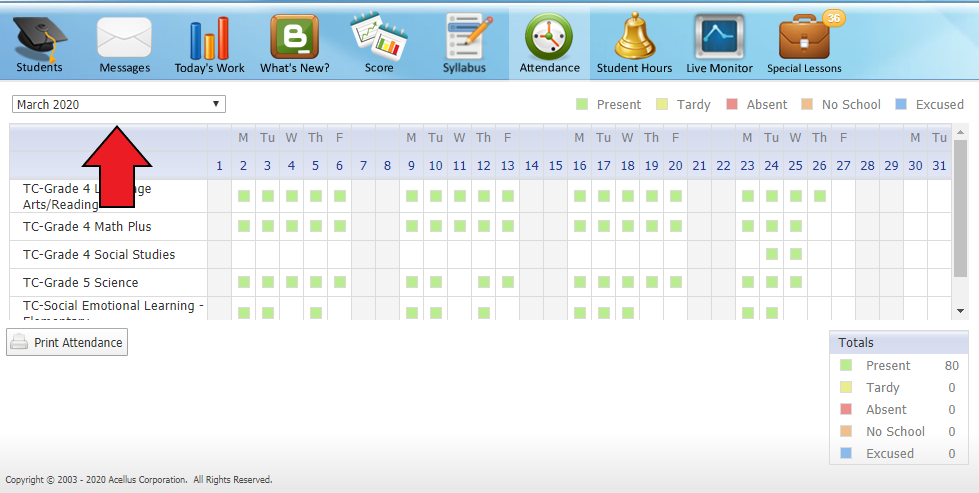 Once selected, you can print the report by selecting 'Print Attendance.'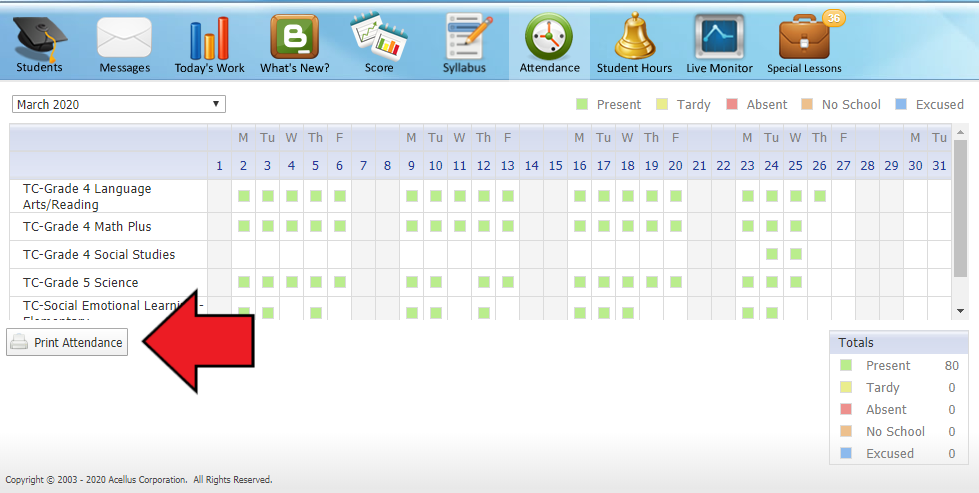 Attendance cannot be updated manually. The system will keep track of when students logs into work on their courses. We do not mark students absent or tardy in Power Homeschool.
Related Articles

Printing Student Hours Report

To view the student hours report, log into your parent account and select a student. Click on the student hours icon in the menu at the top of the page. Next, select a month to view student hours. The report will show how many hours your student ...

Printing a Report Card

To print a report card, you must first sign into your parent account. Once signed in, select a student. Click on the score icon from the menu at the top of the page. Before you print the report card, make sure the grading period is set to the time ...

Printing a Detailed Report

The Detailed Report would include all of the steps the student has completed within a course as well as the score and date/time when the work was completed. To view this, sign into the Parent Account and select a student. Select the score tab from ...

Frequently Asked Questions

How It Works For devices other than mobile, please use the table of contents located on the right side of your screen to quickly navigate to the topics you are interested in. What is Power Homeschool? Power Homeschool is the official provider of ...