Printing Student Hours Report
To view the student hours report, log into your parent account and select a student.
Click on the student hours icon in the menu at the top of the page.
Next, select a month to view student hours. The report will show how many hours your student spent working in each course as well as the total for each day. Scroll to the bottom section of the report to view the total hours for the month as well as the year.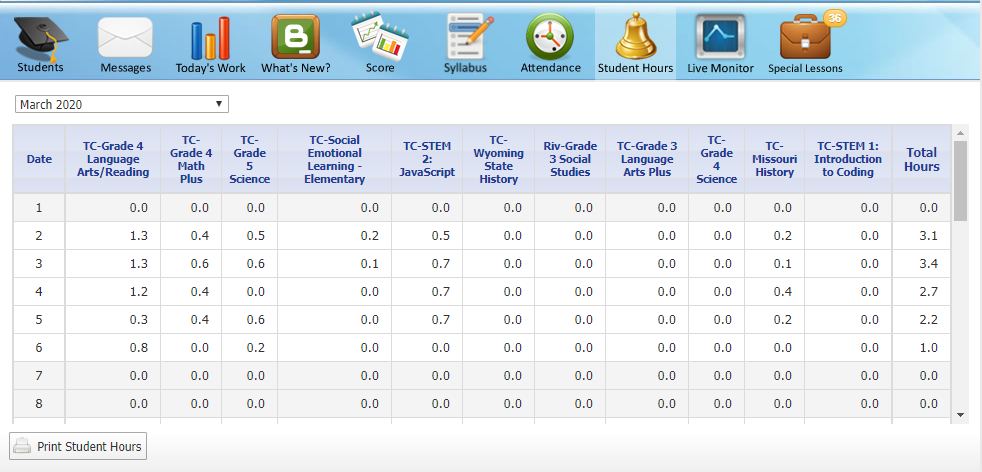 You can select 'Print Student Hours' in the bottom left to print the report.
Related Articles

Printing a Report Card

To print a report card, you must first sign into your parent account. Once signed in, select a student. Click on the score icon from the menu at the top of the page. Before you print the report card, make sure the grading period is set to the time ...

Printing a Detailed Report

The Detailed Report would include all of the steps the student has completed within a course as well as the score and date/time when the work was completed. To view this, sign into the Parent Account and select a student. Select the score tab from ...

Printing Attendance Report

Attendance reports are available from the parent interface. To view these reports, sign into the parent account and select your student's name from the list of students. On the toolbar at the top of the page, select the 'Attendance' icon. On the ...

Adding an Additional Student

After your parent account is set up in Power Homeschool, you may add additional students. Sign in to your parent account through the Acellus App. After signing in, select 'Manage Account.' Select 'Add Student' in the upper left-hand corner of the ...

Reactivating a Student

Sign into the parent account using the Acellus App and choose 'Manage Account'. ​ There you will select 'reactivate' located next to the name of the student under the payment calculator. Then click on 'Make Payment' and authorize the charge. After ...